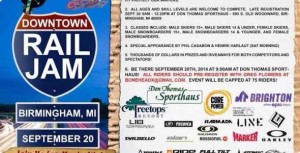 The annual Birmingham Rail Jam at Don Thomas Sporthaus went off on Saturday. The weather held out and a ton of great talented riders showed up to get after it.
Thanks to the M-Snow crew for the drop in, features, and to the local ice rinks for providing the snow.
Photo courtesy of or friends at Aspen Spin.
Results for the 6th Annual Birmingham RailJam
Snowboard 14 & Under                              
1st Place – TUCKER VEST
2nd Place – AVERY ERICKSON
3rd Place – WESTON HUGES
Snowboard 15 & Over
1st Place – SETH HARDING
2nd Place – ADAM HOHMEYER
3rd Place – DRAKE MECHIGAN
Skier 14 & Under
1st Place – MITCH ZYZELEWSKI
2nd Place – THOMAS McGREGOR
3rd Place – LUKE VOTAW
Skier 15 & Over
1st Place – JACK JOCHUM
2nd Place – BLAKE SCOTT
3rd Place – PAUL NEIMI
Women Snowboard
1st Place – LAUREN FULLER
2nd Place – TERESA KEWLEY
3rd Place – ELLIE CARLSON
Women Skier

Photo courtesy of contributor C. Lefley
Written by: J. Dodge