Finally, it's one of our favorite times of the year here in the midwest. The leaves have dropped along with the temps and we've got snow on our minds. It's time to dust off that gear, stream your favorite ski flick and start planning for another great season.
Last winter was a solid one here in Michigan and while we would love to see more consistent cold temps, many of the storms that hit the snowbelts were legit. If you were lucky enough to catch a storm, you were lucky enough. Cold temps are in the short-term and long-term forecast and could be favorable for snowmaking. The push is on for a Thanksgiving opener for many.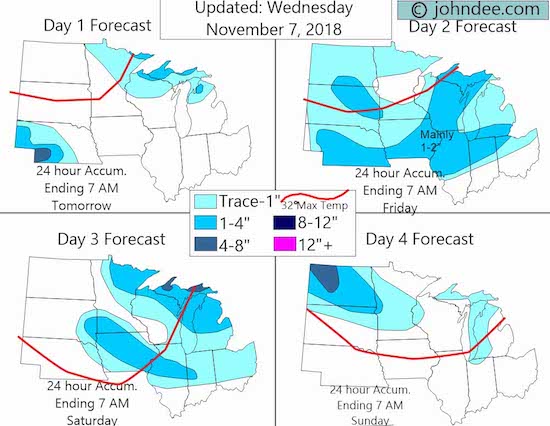 Courtesy of Johndee.com
Looking ahead to this season, many of our regions ski areas continue to invest in their properties. What we've noticed is that if it's a good year, ski resorts double down. When it's a mediocre year, they still invest. Everything from skier services and off-hill amenities to better snowmaking and grooming; you can expect some nice improvements once again here in the mitten state and we're talking trends. Read on.
Snowmaking Improvements
Real talk. Winters are warmer and weather patterns have been more variable than ever before. Most of the resorts in Michigan have been doubling down on snowmaking every year for at least the past 5 years. Many of these improvements come in the form of increased water for better snowmaking capacity.
Bigger is better, especially in the case for snowmaking at Boyne Mountain and Caberfae. Both these resorts have dropped 1,000+ feet of large diameter pipe in the ground, all in the name of more snow. Snow Science Geekout: 12" pipe like that used at Boyne Mountain will flow at a rate of 4,700 gallons per minute! Move more water, make more snow. Improvements also come in the form of new snow guns too.
Marquette Mountain came under new ownership this past summer and with it has come a lot of great improvements. Everything from skier-services level in the rental and cafe areas, all the way to on-snow. The team at Marquette just rolled in a new fleet of Super PoleCat portables from SMI. It's a safe bet these guys are serious this season and we don't think there will be a bunch of waiting around.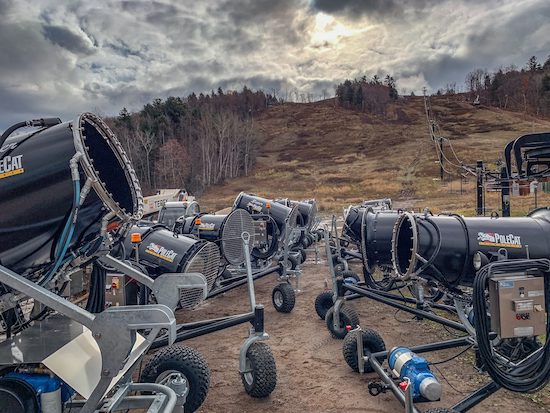 Snowguns waiting their turn at Marquette Mountain.
Rental Equipment Upgrades
Not everybody owns their own gear and there's no reason to own gear if you're just getting started or introducing someone to the sport. Resorts have taken good note of this over the past few years and it's great to see equipment upgrades coming down the wire. We're talking complete fleet overhauls. Crystal Mountain has brought in an entirely new fleet of Atomic, Boyne increased its relationship with Head, and Shanty Creek cleaned house in favor of all new gear from Rossignol. The trend here is lighter, stronger and easier.
On-Snow Experience
This really is why we're all here, right? Better grooming and improved features all add to the experience. New groomers hit many of the ski areas this season, with the focus on consistency. Are we seeing a race for the best terrain park in Michigan again? This season could be it. We see Boyne going all in on equipment from Pistenbully to maintain and build up their park scene, Nubs is always a contender and then those ski areas down in the southwest region such as Cannonsburg, Timber Ridge and over to Alpine Valley, etc. always have a stronghold too.
No major investments made in chairlifts this season so that should remain somewhat unchanged. Caberfae did invest in a magic carpet, following the trend of other resorts looking to make it easier for beginners to get to the top of the hill.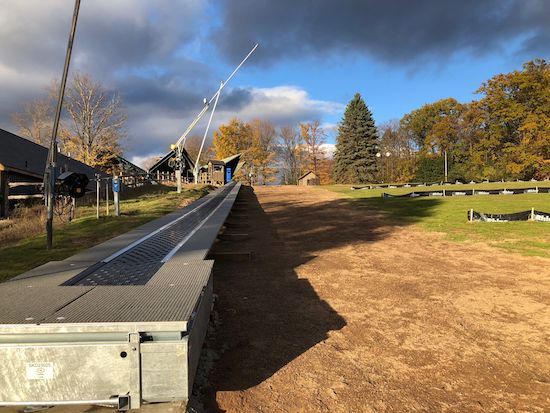 New magic carpet installed and tested at Caberfae.
Mount Bohemia, that gem tucked away up in the Keweenaw Peninsula has gladed out more trees, opening things up so you can explore more terrain. Shanty Creek also opened up a few more of their glade areas at Schuss Mountain for those seeking alternatives to the usual groomed runs.
Season Passes & Ticket Deals
The biggest news to hit the scene this year is the expansion of Ikon Pass. Boyne Mountain & Boyne Highlands, amongst many others (not in the state) have joined the program. While it might seem like a bit of coin to drop on a season pass, the Ikon Pass gives you access to some of the top terrain in the biz.
If you haven't caught on yet, new trends for this season are select flex-packs of lift tickets that could be purchased pre-season at discounted rates. With rates here in the midwest creeping into the $88+ /day rate, this was a no-brainer to jump on.
Possibly some of the best season pass deals around can still be found at Caberfae Peaks (Cadillac, MI) that started at $109 and is now only up to $149, Shanty Creek (Bellaire, MI) was $299 all-time and of course the 1-day sale up to Mount Bohemia happens November 21st through December 1st for $99. Many resorts now are partnered up resorts around the country too – so check the fine print, watch the weather and take advantage of last minute flights.
Much happening on and off the slopes this season and we look forward to seeing you out there!