It's beginning to look a lot like Skibums-mas! If you missed the Black Friday/Cyber Monday craze and are still searching for the perfect gift for the skier in your life, we've got you covered. Take a look at our curated list of holiday gifts, updated for 2021, for all budgets and plenty of Michigan-local companies to support.  
Based in Marquette, this neat shop enables all Michiganders to celebrate the places and pastimes we love most about our home state. They feature original apparel, one of a kind artwork, and gifts for everyone on your list. We recommend their lap blankets: made with 100% virgin wool that's locally-sourced from the small UP town of Rudyard and sure to thaw your frozen-solid thighs after a fun day on the hill. 
Here's a gift for your favorite tech guru: the type to eagerly anticipate the iPhone 12 release after they just bought an 11, or the athlete that's always looking for an extra edge in their strategy (literally). CARV are digitally-connected boot liners that allow for live analysis and personalized coaching while you ski. If you think they're too good to be true, we have the link here to prove it. 
There's never been a more opportune time for an all-in-one hat and gaiter solution. Meet the Yooper Chook: "the hat that is as warm and unique as the people who wear them." For UP and LP dwellers alike, just keep this hat combo handy at all times and you'll never go without warmth or safety. 
Based in Boyne City, Shaggy's provides hand-crafted skis for all experience levels. You can feel confident you're sporting both a stylish and high-quality pair of butter knives when you choose Shaggy's, which has a storied history of service and deep family roots. Check out their in-depth, all mountain ski guide for 2021/2022 here. They're also selling complete ski gift packages to take you from the couch to the mountain with style and pure customization, only found at Shaggy's.
You can't go wrong with a Stormy Kromer cap. The iconic brand was born in 1903 from the wit and grit of the upper Midwest and is still warming heads and hearts nationwide to this day. Shop their full line of apparel, caps, and accessories — and support local.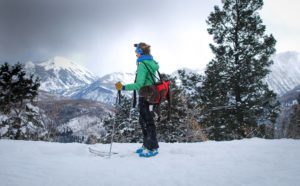 If your faithful pup (or cat, who knows) accompanies you on any and every backcountry excursion, it's best to be prepared for potential danger. Because while it may be second nature for you to keep a beacon, probe, and shovel in tow, there's another important tool to help your furry friend brave the elements. Airlift by Fido Pro is an emergency dog-carrying harness that provides support when you and your best friend need it most to safely descend from the summit together. 
#SnowWins Bumper Sticker
You deserve to rep. the best merch in the game. Your bumper or rear car window will look as stylish as ever. Get your exclusively-branded MI Ski Report "Snow Wins" sticker for the 2021/2022 season, by clicking here to message our team or by dropping us a line on Instagram!
Iron Fish Distillery is Michigan's first working farm that's solely dedicated to the practice of distilling small-batch craft spirits. Located just 3 miles from Crystal Mountain in Thompsonville, this is the perfect place to snag a bottle of fine whiskey or their new limited-release Bourbon Barrel Aged Coffee. The coffee is a collaboration with Keweenaw Coffee Works, which resulted in a brew reminiscent of chocolate-covered raisins, black currant, and orange peel. Stay warm this season and support our friends at Iron Fish.
There's nothing worse than sticking your foot into a soggy boot liner from the night before that you forgot to ventilate. If the tried and true fireplace technique just isn't cutting it this year, upgrade your boot drying system with PEET: the original drying solution. They offer glove and shoe combo dryers, single systems, and dryers for families.