Impact on National Winter Sports Industry
Climate change is a topic that has been constantly swirling amongst scientists, environmentalists and many other professionals. In fact, it was back in the 1820's when French mathematician Joseph Fourier first proposed the idea of the "greenhouse effect", a result from atmospheric gases trapping in some of the sun's heat (Rutgers, 2013).
Fast forward to 2016, where Earth's global temperature was roughly 3% above average, almost a 1.8-degree Fahrenheit difference. There's even early evidence suggesting that this year may be hotter than the previous year, which at this point isn't out of the ordinary. Data collected and reviewed by scientists from 2017 have determined that 16 out of the 17 warmest years on record have occurred since 2001.
At this point, it's evident that something is happening to our planet's climate, regardless of what some might suggest. There are many factors attributing to these increasing temperatures, but finger pointing serves no purpose. While some industries may see growth as temperatures rise, the winter sports industry has been struggling to adjust to the changing climate. According to SnowSports Industries America (SIA), research has shown that weather accounts for almost 75% of the variance in yearly sales and participation for the industry. Nick Sargent, President of SIA, isn't too worried about what the future holds. In what he calls a "weather dependent seasonal industry", the key to sustainability is adaptability.
Impact on Michigan Winter Sports Industry
When it comes to markets for winter tourism, some of the first states that usually come to mind are Colorado and Utah. While these two states rank near the top in terms of market size, one of the most overlooked markets is found right here in the mitten.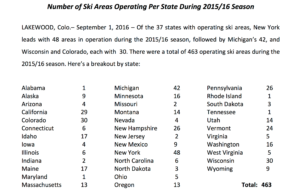 Michigan sits second in total number of operating ski areas/resorts and finishes eighth in overall employment. A study found that the state employs an estimated 10,889 people in the winter tourism industry, which adds almost $638 million dollars to the economy. To put things in perspective, this is nearly double the size of the wine industry in Michigan (Hirten, 2016).
For the nearly 2.2 million people who paid a visit to go skiing in Michigan during the 2012 season, increasing global temperatures could have a devastating impact on the number of opportunities they have to ride in the future. Climate change is impacting the Michigan winter sports industry in three major ways; snowfall, snowmelt and snowmaking.
Snowfall
You may have noticed that over the last decade or two the amount of snow on the ground doesn't quite match up with what you remember it being like. Depending on where you live in the state, 2017 might be one of those noticeable years. Rising temperatures are having a huge impact on snowfall totals in some areas of Michigan for the season. In Traverse City, average levels of snowfall for the current year are down roughly 20%. A decrease in average snowfall could have one of the largest impacts on the Michigan winter sports industry.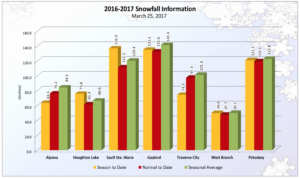 According to data provided by the NOAA, between November and December of 2015 was the warmest it's ever been during that two-month period. Between those two months, the state's average minimum temperature is around 21.7 degrees Fahrenheit. In 2015, Michigan saw its average minimum temperature hovering just under 31 degrees Fahrenheit, a staggering 9 degree increase (NSAA). If temperatures continue to rise and remain high for longer periods of time, we will begin to see the length of Michigan's winter sports season shrink.
Snowmelt
Increasing amounts of snowmelt can be mainly attributed to the rising temperatures throughout the state. For this, we must understand the elements that impact snowmelt. Daytime temperatures are becoming higher, allowing top layers of snow to absorb enough energy from the sun to allow crystals in the snow to break down. As the snow melts, gravity pulls the droplets of water down towards the Earth's surface, collecting additional snowmelt along the way.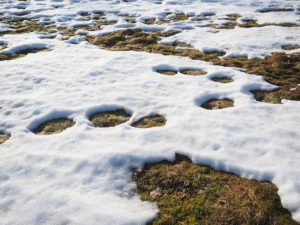 Over time, the combination of the temperatures and the sun's intensity begin to dwindle away the snow base, leaving resorts to fend for themselves when it comes to acquiring additional snow. With temperatures continuing to be warmer than expected, this is resulting in a greater amount of snow being melted. This could spell disaster for Michigan ski areas who are unable to react and respond to the melting snow in time.
Snowmaking
Liberty Mountain Ski Resort, located in Pennsylvania, identifies two elements of climate crucial to making snow; cold temperatures and low humidity. An absence of cold temperatures makes it nearly impossible to make snow. While water freezes at 32 degrees Fahrenheit, experts suggest temperatures be at 28 degrees or lower for optimal snow making conditions. Humidity is the most critical component for determining if conditions are right for making snow. Monitoring the wet bulb temperature is important because the level of humidity in the air will determine how effective snowmaking is. To put it simply, water cools slower when the humidity is high and quicker when the humidity is low, making conditions with low humidity levels the most desired for snowmaking.
Rising temperatures have left Michigan ski areas with fewer opportunities to make snow throughout the season. With climate change affecting both snowfall and snowmelt, Michigan ski areas must rely heavily on snowmaking as a means to keep their runs open and their chair lifts operating. Due to the limited number of opportunities to make snow this year, Michigan ski areas and resorts are going out of their comfort zone to avoid calling it quits for the season.
In previous years, the snow accumulated has given resorts no reason to make more snow so late in the season. While we may not normally be accustomed to machine made snow so late in the season, we should respect their decisions by continuing to ski and snowboard up until the very last day. With climate change impacting the ability for resorts to make snow, expect to see more Michigan ski areas and resorts follow suit in the upcoming seasons.
Part Two (Coming Soon)
Next week, we will take a look at how the winter sports industry is responding and also provide tips on how to continue getting the most out of your winter sports season despite the destructive effects of climate change. Having more than a surface level understanding of the impact of climate change on the national and local industry is how we begin progressing towards a sustainable future for not only the winter sports industry, but for our planet as well.
Browse our updated list of Michigan Ski Resorts open this week/weekend!
Michigan Ski Resorts Open (Updated March 27th)
Resorts featured below are currently open or will be open this weekend.
Big Snow – Indianhead Mountain