I'd wager that most my trips out lately have some degree of pre-planning involved. While I'm very fortunate that my occupation allows me to schedule a day off here and there midweek to catch a good storm, that luxury doesn't come without cost.
Being based in Grand Rapids and a few in the Traverse City region, running the M115 corridor is good for quick day trips. And, when the lake effect machine kicks in, it can be pretty damn good at either Caberfae or Crystal Mountain.
Given the lackluster start to the season, it was hard for anybody to get pumped to go shred groomers. Knowing the big lake was sitting out there like a hot tub, it was only a matter of time before a few lake effect storms popped up. Sure enough there was a cycle pushing through right around MLK weekend that deposited the goods Sunday, and the plan was to get out mid-week Wednesday.
Considering MLK weekend is a major ski holiday, you could pretty much guarantee there wasn't going to be any fresh left. Snow kept coming through Monday which helped the level of optimism. Focused on the radar the last minute decision was made to go closer to the lakeshore and hit up Crystal. That decision would prove worthwhile once arrived.
Usually that trip takes me 2.25hrs door-to-door, but given the millimeter of snow we got in GR and a crowd of summer drivers on the road, the highway was creeping! Once out of the city I made up some time, caught a conference call enroute, and got north. The weather switch was flipped as I neared Cadillac, dumping snow as I made the cut west. Arrived at Crystal to a nice blanket of classic 4-6" lake effect and still snowing. Mind you, that region got slammed with 20" of snow in the past 48 hours.
Booted up b
y 10am, and waiting for the rest of the crew to arrive I sorted out the quiver. Aside from fresh snow, motivation for the day was to get dialed in on the new '17 Elan test ski, aka #skiripstick and put it through its paces up against a set of '16 Rossignol Soul 7's – a ski that doesn't disappoint. But more on that later.
Everyone filtered in shortly after I did. A motley crew of dudes I grew up riding with. A couple other washed up ski racers and a slew of snowboarders who were riding sideways way before it was cool.
Catching our first chair up, snow guns were blasting to the south of Crystal's Buck hill, keeping the virtually nonexistent population out of the glades. A few warm up laps and pow stashes off of Gorge we tackled a couple runs in through the lower section of Buck Glades.
Sure enough, the MLK weekenders steered clear of many tree runs which elevated the stoke level!
With Crystal recently opening up their latest edition, The Backyard, we ventured over to see what this was about. For those familiar with Crystal's layout, this is the section between the Ridge and the Northface slopes – dropping in the natural drainage that headed west. Bummed to find out the chair wasn't spinning, the Backyard does have a feeder back to the Ridge lift, providing us with access to a few exploratory runs. While mostly mellow runs, the terrain has good flow and opens up a number of new gladed sections that were fun for even experienced skiers to rip through.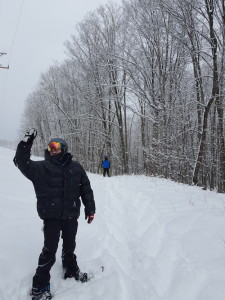 After lunch, we headed back out to the North Face and proceeded to farm virtually untouched gladed runs rewarding us with consistent knee deep drops. It didn't suck! With some of the crew having to roll out early, we scoured around to some hidden stash spots. Heading back to the front side to get after more of the Buck Glades area, we might have unofficially opened back bowl. No denying it, that rope was low and the snow on the steeps leading into the 5' hero tree drop stabbed in the middle of the bowl looked amazing. Prime! Turn for turn didn't disappoint, and the face shots off the tree drop were all that was needed to cap off the day.
It's days like this that I'm reminded of the great group of people I get to ride with, the positive impact that the snowsports community has had on my life, and the opportunity to get out and ride another day. Cheers!