For those who are unaware, Otsego Club, the once private ski area near Gaylord, Michigan, is now open to the public for skiing and snowboarding this season.
After some transitions in owner groups having seen itself go from a private ski and golf resort for nearly 80 years, to being open to the public on select days, to now fully open to the public; the ski area has certainly seen its fair share of ups and downs.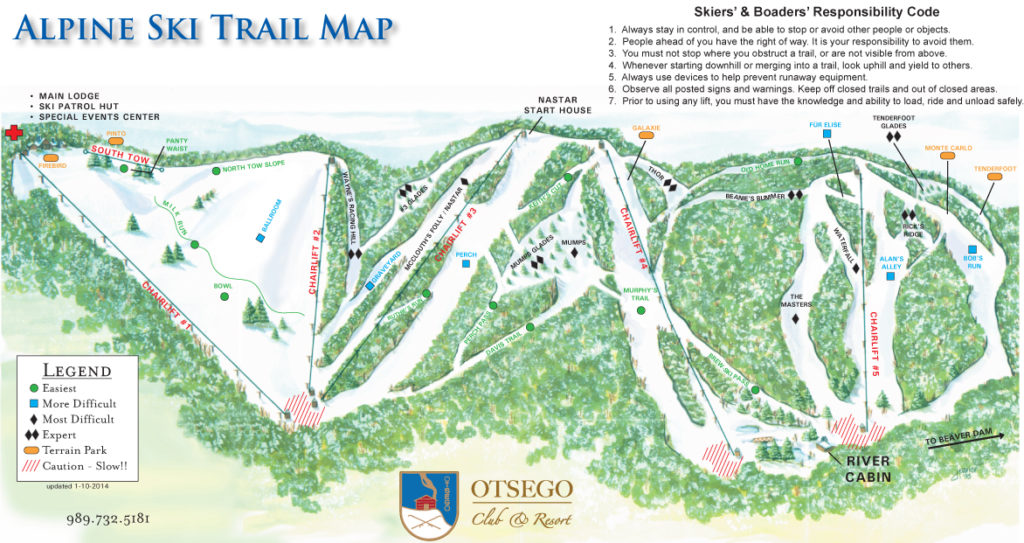 Back in 2010 we covered their refresh which included major updates to on-site amenities, upgrades to hill features, and even played host to foreign Olympians who came in to train on a massive 22′ superpipe before the Vancouver Olympic Games.
Otsego Club is a unique layout for the Midwest. Similar to what you might experience at Colorado's A-Basin, Otsego Club is more of a bowl, where patrons park at the top where the main lodge area is. Meaning you ski down from the parking lot and lodge area, catching the lift to come back up. Having had the opportunity to experience Otsego Club back in 2010, it is a beautiful area in Northern Michigan that features around 400 vertical feet and 136 skiable acres. With 5 lifts spinning Otsego Club can handle upwards of 2500 guests in a day. When we were there in 2010 it was still relatively private so standing around in lines was virtually non-existent anyways.
Otsego Club's Amenities
Keep in mind, this was once a private ski club and the amenities are tops. Plenty of on-site lodging and dining options are available. From hotel style rooms to condo rentals, and inside the historic lodge you'll find good cuisine with stellar views overlooking the main runs at Otsego.
On the lower end guests can stay in the Loft Lodge, a 16 room hotel on-site, starting at $99/night, on up to the Hilltop Lodge with prime amenities and ample space, starting at $330/night.
Otsego Club Lift Tickets, Season Passes & Rentals
Lift ticket prices are on-par with other Michigan ski areas. Adult day passes are $65, Teens $55, Juniors $50 and Kids 6 and under are just $5. Season passes are also competitively priced for a ski area of their position, inching into those Boyne Resorts pass prices. Adult season passes at Otsego Club can be had for $499, Teens $449, Junior $399 and kids 6 and under $49 (though, do the math, junior needs to go more than 10 times to make this a value). Otsego Club has a full rental fleet for both skis and snowboards. Adult full day ski packages start at $42/day with kids packages starting at $30/day. Snowboard rentals, with boots are $45/day.
Otsego Club's season opener was on December 16th. From what we have heard, given the snow that region has been getting, the comments are positive and Otsego Club is off to a great start. Check it out this season and post up your experience below in the comments.