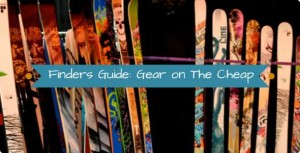 Im not going to launch into a tirade about the cost of new ski gear. I am not going to launch into a tirade about the cost of new ski gear. I am not going to launch into a tirade about the cost of new ski gear.
I promise you, this post will focus on saving money on gear, in a satirical nature, but seriously. Read along. Take notes and pay attention.
Winter is near, very, very, very near. As I write this, a festering nor-easter is eating its spinach off the coast of the East coast. Forecasts indicate 6″-12″ for the New England and upstate areas of New York. Mt. Baker, Washington is already boasting the arrival of thier first significant storm cycle of the season…predicting 96″, yes, NINETY-SIX-INCES, of snowfall over the next 4 days.
Meanwhile, you've been watching free ski movies on the internet at work, attending whatever movie premiers are within a days drive of your casa, and hitting the off season training regimen hard…killing at least 2 or 3 sixers of pumpkin ale every week.
But the bread and butter of off season stoke? Easy. Gear.
What am I going to ski on this season? What gear do I need?
Lets see. First we need to establish our priorities. What are our goals for this season?
Ski more powder? Ski more backcountry? Ski more park? Learn to tele-ski? (free the heal free the mind bruh) Where in the country am I skiing? Does my girlfriend need skis? Does my boyfriend need skis? Is my kid yet old enough to ski? (potty trained is the rule btw)
Got that figured out? Good. Moving on.
Next we need to figure out what is going to accomodate our priorities. I.e. "The Quiver Conundrum".
You might need a pow ski, you might need a park ski, you might need a resort ski, you might need a touring ski. For each ski you need bindings. Lets not forget alpine poles and trekking poles. Oh and boots! You might need to supplement your 140 flex beastly race boot with a softer touring boot with rubber soles and a walk mode that will accomodate your before work dawn patrol mission. Because whats worse than touring with an alpine boot? Walking around in work shoes all day after touring in an alpine boot.
Don't overlook the ever pressing seriousness of ski quiver overlap. Do not own more than one ski that provides the same thrill. That would be like having two blonde girlfriends….um, yeah…
Anyway…Lets break down the cost of some of this gear, new.
$800 + $800 + $800 + $800 + $800 + $800 + $800 + $800 = Mucho Deniero
Unless you're working so much you can't ski anyway, or are independently weathly (hook a brother up?), or are a straight up pro or a sponsored bro, regular joe ski bums need to find resources for great deals on gear.
If you are willing, or if your bank account forces you to be willing, you can find great deals on used or last years new gear if you know what you are looking for.
How? Lets discuss our options.
LAST YEARS GEAR:
I always, with success, shoot for last years new stuff of overstock or unsold hardgoods. Prices are negotiable, skis are flat, binders are tight, boots don't stink. Across the board, you will easily knock 50% off of the cost of new gear on your new gear. Shops need to get rid of the old new stuff for the new new stuff. Manufacturers typically only make changes to ski design every few years, so do your research here. If you do, you will score the exact same ski as the new ones and they probably have a better graphic. Lets be honest, last years graphic is always better. When taking this route, you don't have to consider the shape of the gear versus the cost, because its new…yeah.
SKI SWAPS:
October/November is ski swap season. The key to finding the goods at a ski swap is to GET THERE EARLY…OR, even better yet, find out if there are any local shops that have a section at the ski swap, and hit them up a few days before the sale. This is a killer way to score last years demo fleet or last years store stock on the CHEAP.
USED DEMOS:
You have to tackle this one in the spring. Shops will start to off their demo fleet in April or so. More often than not, these deals come with bindings included. BAM. Two birds. Some demo bindings are better than others.
THE INTERWEBZ:
You name it, facebook friends, craigslist, the awesome forums, the annoying forums, warehouse sales, third party outlet sites, the opportunities for killer deals on used or last years gear are endless.
Now that you know what gear you want and where to look for it, lets discuss what to look for in the gear that you are looking for.
USED SKIS:
Before we get started on the wonky techical stuff, consider this formula when buying (or selling) used gear. You will be chastised by someone who knows more than you if you break these rules. You will be equipped with the proper knowledge to put down a chastising if you know these rules.
Begin at 50% of current online price (not MSRP, the price that you see when you Google the year and model of the ski you are selling). I don't care if you only skied them for a week on your trip out West, or if you only took a few laps through the park and wasn't happy with the quality of pop. Sorry bruh, you drove it off the lot.
Deduct 10% per year the ski is old.
Deduct 10% per times the ski is drilled, per core shot, per delamination.
Addendum: Consider the quality of the repair as well, this could be a     deal breaker. Is the base flat or bubbled or discolored? How long did this dirtbag ski on the ski with a open coreshot? Because if the core     material got wet, and froze and then melted, and then rotted BEFORE the aforementioned dirtbag put some p-tex on that little guy, the ski is next to worthless. Seek professional help if you are skeptical. Be weary if coreshots are on an edge, and if the edge was blown out or repaired, you will see a wave in the edge where it was pressed back in or the p-tex will be flush against the edge material. These are discretionary deductions, but typically more than 10%. A coreshot coupled with an edge repair is typically a deal breaker.
Holes. If a ski has more than one mount, make sure any new holes can be drilled at least a screw width away from any pre existing holes. If this rule is followed, and old holes are filled with nylon plugs, NOT TOOTHPICKS AND GLUE, then you can pretty safely mount a ski as many times as you want. Use good judgement, but remember, 10% deduction per mount regardless.
Add 10%-30% for a Rare or High-Demand Item: We are talking Volant Spatula rare or raceroom Soul 7 rare (not the air tip thingy Soul 7's, but the Squad 7 before the Squad 7 was the Squad 7, if you aren't sure what this means, I digress). This definiton of rare does not include any limited run of independently manufactured skis.
Lets recap skis. Edge coreshots are deal breakers. Don't buy skis with toothpicks in them. Rare = rare due to demand.
USED BINDINGS:
This one is a little more serious. Because safety. Consider the type of binding. Is this an AT binding? Make sure there isn't too much slop in the linkage. Does the heel lock tight? Are there stress fractures in the plastic? Do all the parts match? Ie, franken heels or toes? Use some discretion here, seek professional assistance if you aren't sure.
If you are buying used alpine bindings, try to determine how many days are on them, do the heel pieces wiggle, do the heel pieces maintain forward pressure when you put a boot in it? When you adjust the DIN do the springs feel damp and not loose?
This sounds superficial but are there a TON of scratches on them? If the bindings arent an all metal race binding, but plastic, then deep scratches can be an indicator of problematic wear. With a metal binding, there is a little more leeway…because its metal. Lastly, even after you purchase and mount a used set of bindings. Take them to a shop and have them VERMONT TESTED. The Vermont Test will check the accuracy and reliability of the DIN setting on your bindings. Because safety.
BOOTS:
We can actually get away with quite a lot when it comes to used boots. Because we can replace liners, buckles, power straps, etc, it is easy to refurbish a used boot.
Consider whether or not the soles are replaceable, if they are not, check for walking wear on the heels and toes. If the toes or heels of the boots are rounded off on the bottom and the soles aren't replaceable, or if the plastic is creased, dried out or cracked. Pass. Additionally, use caution when fitting a used boot. Talk to a boot fitter. Learn what a shell fit is. Size down to the point where your toes are slowly being killed. Toenail turn black and fall off? Good, you are on the right track. Old liners will be packed out, your new liner will fit snug. Your shoe size is not your boot size. I would avoid purchasing boots on the internet, unless you know exactly what you are pulling the trigger on.
POLES:
Flip the pole upside down, grip the pole underneath the basket and look for a 90* angle at your elbow. If you have to bend over to put the pole into the ground, its not a ski pole, its a hot dog skewer. Be creative with your used pole selection. Retro = Steeze.
This advice should get you started and will save you a ton of money, so, you're welcome. Just remember, before you jump online and pull the trigger on a $1000 pair of skis that are unchanged from last year, use the Googles to do a little looking around, get out there and mix it up at the shop. Oh and bring beer!
Written by: Regan Teat