It seems that every few months the rumor mill churns up a fresh batch of conversations around the mothballed resort that is Sugarloaf Resort here in northern Michigan.
This time it centers around many of the chairlifts being scrapped and recycled, with employees of the scrap company boasting prices of $300 to $400 for a chair to anybody who wanted to purchase. With Sugarloaf fenced off under lock and key for the past few months, questions around whether or not the sale of old chairs from the lifts is legit or not are on the rise.
I decided to go right to the source and reached out to JD Market Acquisitions, the actual holding company for Sugarloaf Resort and spoke with Jeff Katofsky himself.
Yes, the chairlifts are in fact being scrapped. The scrapper handling the dismantle and removal is William Fitzpatrick of Superior Salvage Trucking based out of Boyne Falls, MI (confirmed). It's up to a scrapper whether or not they haul off the chairs or sell them to private buyers. Obviously, it's probably in their best interest to sell them to private buyers at $300-$400 a piece and get the scrap price out of larger objects such as lift towers and bases.
Being respectful of Jeff's time, we had a very matter of fact conversation so we could better understand what was being done. In the best interest of the property, the chairlifts are all being scrapped out. As many close to the area know, they are not useable, not even by a long shot for certification purposes. Yes, sure portions could be donated but the likelihood of that happening is slim. Jeff and I spoke briefly about the number of calls he and his team field on a regular basis due to individuals getting into and accessing the property. The fire that took place up there recently in one of the buildings and around a lift shack as an example.
[Related: Sugarloaf Resort Purchased – Again]
Jeff did state that in an effort to keep any plans moving forward and bring back Sugarloaf Resort, people need to help and respect the property by staying out. As someone who has covered the Sugarloaf saga for a number of years, I have to agree with the property owner on this one. While we all look at the elevation and know it's prime, think of the memories we might have had and the vision of what it could be – it's good to respect it for what it is at this point.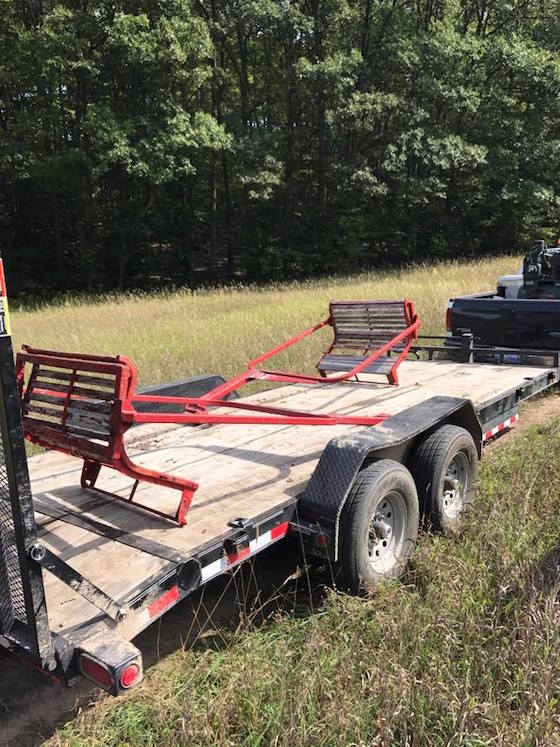 Images courtesy of Linette Reynolds Rouzer (friends of sugar loaf)