In part one, we exposed data that accurately demonstrates how Earth's global temperatures are beginning to rise at exponential rates. The destruction caused by climate change in the local and national winter sports industry was also discussed. Today, we will look at how the winter sports industry is choosing to respond to climate change and how those in the industry can mimic a similar response.
How Is the Industry Responding to Climate Change?
Technology Advancements
Advancements in technology have helped the winter sports industry maintain stability against climate change over the last decade. Variations in weather can pose a challenge for ski resorts struggling to retain snow. In previous instances, a lack of cooperation from Mother Nature left resorts with no response. Technology advancements are providing ski resorts an opportunity to extend and even save their seasons through the power of producing snow.
Michigan based company Snow Makers Inc. (SMI) has been on the forefront of snowmaking technology since it was founded by the VanderKelen family in 1974. The first product developed by SMI was the SnowStream 320, the only airless snowmaking machine successfully sold and utilized worldwide. Their commitment to evolving equipment over the years has led them to the development of their software SmartSnow in 2001. At last, ski areas and resorts would be able to produce powder to their full potential.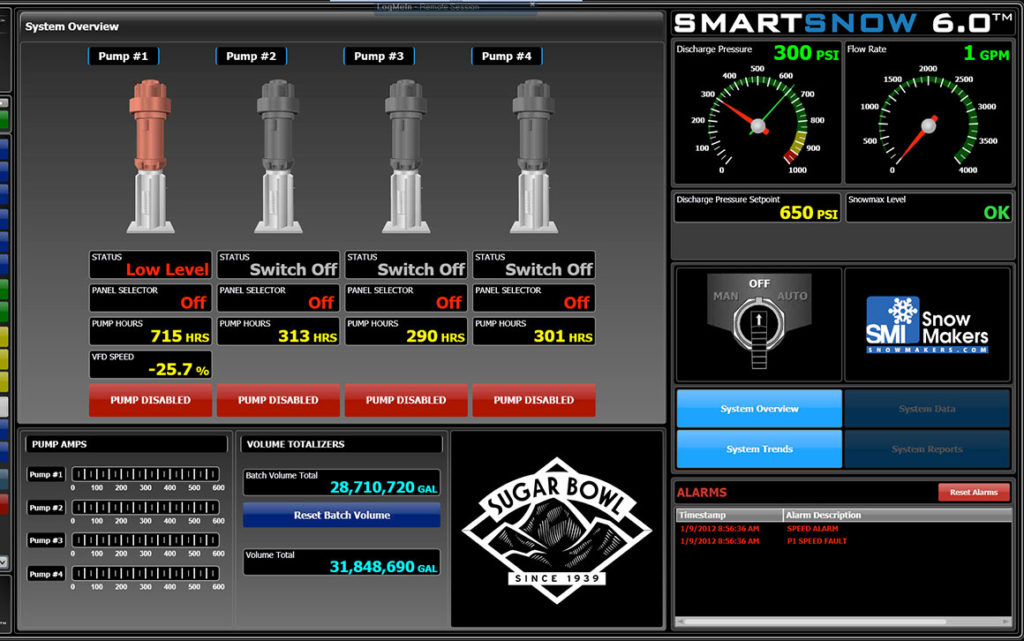 Resorts utilizing fixed position snowmaking machines are not optimizing their opportunities to make snow. Before SmartSnow, snowmaking machines had to be manually operated and many still are today. One benefit of SMI's SmartSnow technology is shorter standby times. The ability to produce powder quickly provides resorts the capability to capitalize on conditions immediately. SMI describes it best by saying how resorts with SmartSnow can "make more snow in less time with less effort, resulting in improved profitability, increased revenue and decreased costs". These innovations are allowing resorts to adapt efficiently and present skiable conditions, even when Mother Nature isn't cooperating.
Setting the Standard: Snowbird Ski Resort
Ski areas and resorts are beginning to take a stand against climate change by advocating through actions rather than words. Utah ski resort Snowbird is setting a great example for the snow sports industry. Their commitment to climate change is shown through their implementation of various projects related to saving energy and the environment.
Recent initiatives by Snowbird include funding public transportation in Little Cottonwood Canyon. This resulted in effectively encouraging roughly 95,000-125,000 guests and employees to carpool and ride the bus. Snowbird also recently installed motor upgrades and controls for building and lift heaters on-site. These upgrades resulted in energy consumption being reduced 1,465,500 kilowatt hours per year.
There are even easier ways that ski areas and resorts can begin taking steps towards advocating through action. Another example is when Snowbird initiated a resort-wide recycling program. This program effectively reduced the paper, aluminum, plastic and cardboard being thrown away across four lodges and the Snowbird Center. It also increases involvement from industry participants. Individuals have the opportunity to learn more about recycling and be active in Snowbird's environmentally friendly efforts. Support for sustainability is also showcased during the offseason through Snowbird's resort-wide revegetation program. Each summer, volunteers help plant approximately 1,500 native species seedlings every summer with TreeUtah.
With assistance from ski areas and resorts, the industry can begin shifting from talking to acting on climate change. The first step is educating individuals on how to effectively advocate for policies that reduce contributions to the problem.
Michigan the Anomaly
A study conducted by the NRDC and POW compared results from low and high snowfall seasons. The study was conducted in hopes of identifying how low and high snowfall seasons are impacting the winter sports industry. Climate station records were collected to identify two seasons with the highest and lowest snowfall between 2000 and 2010. Comparing data provided researchers a deeper understanding of what to expect in future seasons as the climate continues to change.
After analyzing the data, a strong correlation was determined to exist between lower snowfall seasons and lower numbers of skier visits, resort revenue, employment and economic value added amongst most of the states studied. Only four states saw increases during low snowfall seasons; the Dakota's, Ohio and Michigan.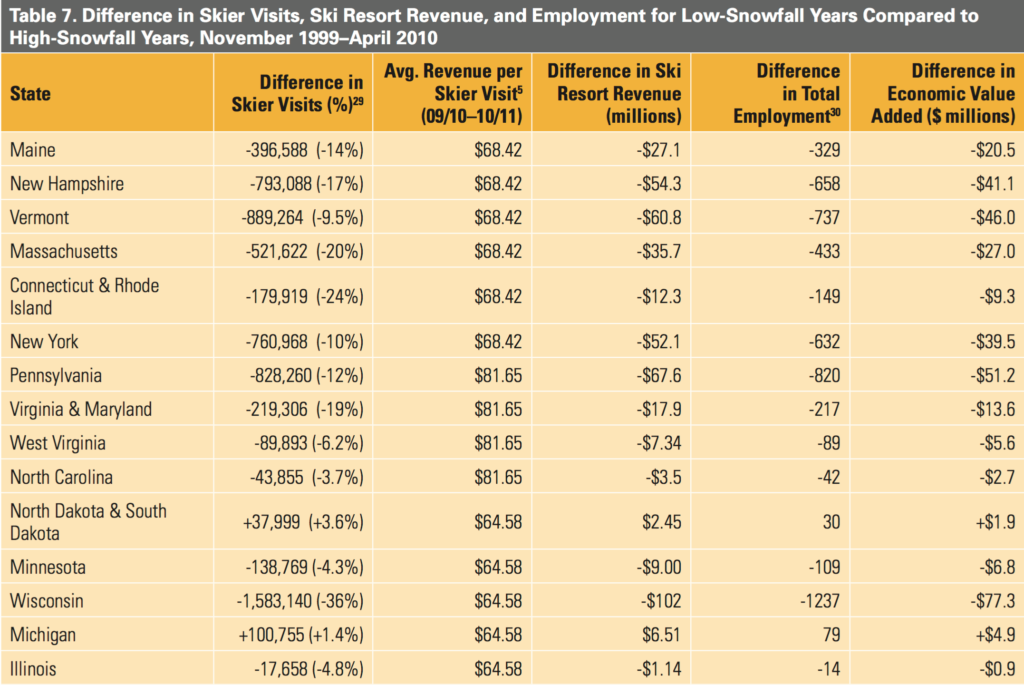 The findings from this study are troublesome when looking at the overall picture. Implications from lack of snowfall are strong among states who rely heavily on the industry. As for Michigan, what does the data from this study reveal to us about our own industry?
It's unclear why states saw an increase in visits, resort revenue, employment and economic value added during low snowfall seasons. Lower snowfall seasons may have kept individuals in state rather than out West or elsewhere. After configuring costs, Michiganders may decide investing money into the local industry would result in a greater return on investment.
If nothing else, it's reassuring that despite the devastating impact climate change has had around the country, the Michigan winter sports industry is holding on better than most.
How Can I Respond to Climate Change?
Backyard Syndrome
I've previously talked about the term backyard syndrome and its implications on the winter sports industry. One of the best ways participants in the industry can challenge climate change is avoiding falling victim to backyard syndrome.
The beginning of March had seen some of the most bizarre weather thus far this year. According to data provided by AccuWeather, average March temperatures in Grand Rapids hung right around the 47-degree mark. The last couple weeks in March, Grand Rapids experienced several days of low to high 50's.
After experiencing the unusually warm temperatures we are far too accustomed to, the weather took another twist on Friday, March 10th. The weather dipped back down below freezing, bringing snow along with it. Only two weeks later, the temperature on Friday, March 24th rose to a whopping 71 degrees. Not only do my allergies suffer when weather like this occurs, but so does my brain; I no longer know what to believe or expect.
As a response to the confusion, Caberfae Peaks released a promotional video across social media. The video features footage from a drone, showcasing the snow they still boast. The video garnered over 26,000 views and hundreds of interactions in only a few weeks. This example takes my idea of webcams as a tool to fight backyard syndrome to a whole new level!
Michigan ski resorts should learn from Caberfae's response and attempt to match the resort's efforts to curb backyard syndrome. With winter ending, this video was a brilliant way for Caberfae to capitalize on the time remaining in the season.
Community Engagement
Michigan ski resorts rely on us as much as we rely on them to provide us with the best experience. One thing I've always loved about winter sports is the people that make up the community. As participants in the industry, we should be willing to lend a hand to ski areas and resorts around us. Other than purchasing lift tickets, there are many other opportunities to support the local and national winter sports industry.
During my trip to Shanty Creek Resorts, my family chose to redirect the money saved on lodging and lift tickets. We normally pride ourselves on packing sandwiches and snacks to cut down on costs for food. All weekend we dined at the various restaurants offered at Shanty Creek. There was even a chance for myself to save 60% on a brand new Burton jacket! Not only did I receive a great deal, but I was able to give back to a resort that has given me so much over the years.
Protect Our Winters (POW)

We had the chance to correspond with Protect Our Winters, an organization dedicated to provoking the outdoor sports community to take action against changing climate. When asked what could be done to reduce the impact of climate change on ski areas and resorts, POW responded that "individuals can assist by reducing their own carbon footprint to combat climate change".
That may sound challenging at first, but we have resources provided by POW to help aid us in our efforts. Below is a summary of their seven step plan of action. It outlines the most efficient and effective methods of making your opinion on climate change heard.
Get Political.

The time to act on climate change is now. Your opinion must be voiced and directed at those in power at the state and federal level in order to be heard. POW provides a great guide on how to do this effectively.

Educate Yourself.

It is difficult to convince other people to agree with your stance without a proper understanding of everything contributing to it.
Speak Up. Utilize your knowledge to spark conversations amongst friends and family about the effects climate change has had on the winter sports industry.
Find Your Biggest Lever. Everybody brings something to the table; whether you're the center of your social group or a member of a local organization, utilizing these outlets provides maximum reach for your message.
Talk to Businesses, Vote with Your Wallet. Gather information about the businesses you regularly support. Hold businesses accountable and see if they are playing their part in the fight against climate change. Utilize the list provided by POW to begin discovering which businesses are taking initiatives in sustainability.
Change Your Ways, Reduce Your Carbon Footprint. Be the change you wish to see in the world by avoiding activities that contribute to climate change.
Join POW. The opportunities to get involved are endless. Even if volunteer opportunities in your area don't exist, you can create them with the help of POW. With the millions of people participating in winter sports, imagine the impact an industry wide movement would have on society.
Protect Our Winters invites you to join fellow outdoor enthusiasts in the upcoming People's Climate March on Saturday, April 29th! Communities across North America will peacefully march to bring awareness to the damages being done to our own environment. You can visit their website for a full list of participating cities, as well as further details about each demonstration.
Wrap-up
The winter sports industry is suffering from the consequences of continued negligence regarding climate change. As participants in the industry, we must serve as activists and continue to acknowledge the changes happening around us. This is the first step in sparking a movement of advocacy across an industry that encompasses millions of individuals.
We are fortunate enough to live in one of the most premier states for winter sports in the Midwest, arguably the country. While evidence might suggest not all is bad, many Michigan ski areas have shut their doors earlier than ever before. The constant fluctuation in weather can be difficult to overcome, especially for smaller resorts. Thankfully for us, we have companies who are passionate about optimizing opportunities for resorts to make snow. Their advancements in snowmaking technology are providing resorts with more ability to adapt to Mother Nature.
With it seeming that our seasons are only growing shorter, we should be choosing to adapt alongside resorts. Going forward, I plan on being more conscious about climate change and advocating for policies that reflect those values. I also hope to take advantage of more opportunities to snowboard with friends and family in the upcoming seasons. Together, the winter sports industry can influence the minds of millions; directing progress towards ensuring future generations can enjoy skiing around the country and here in Michigan.
Still itching to get one last session in before the season's over? Ski Brule will be closed all this week, but hopes to open one last time on Saturday, April 15th! Call (906-265-4957) or check online to see if Mother Nature blesses the Mitten with one last day of shredding!